Summer!
Here's a little summer update! I've taken some time off from my own touring, and mainly spend this summer with Ane Brun and her tour band. We're having a luxurious summer full of adventurous experiences (for example: see the cover photo of this post where we are climbing down a steep mountain) and wonderful gigs. Do catch a show if possible! Tour dates on Ane's page. A photo from a beautiful ferry ride: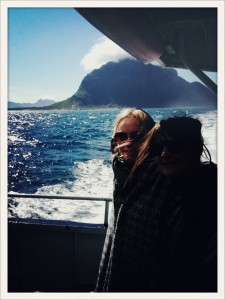 Other than that I'm trying to have some time off, go to yoga camps and far off country houses and, hopefully, by the end of summer I'll have some new music written.
My latest single "Wolf hour" has been added to German radio stations this summer, and will be released for France this autumn! French reviews still popping up, see my official facebook page for all the latest news and links. Below this post you can see a French interview made by United States of Paris. And oh, thanks to all of you who came out to the shows in Paris in May – we loved it.
Soon to be released is a brilliant remix of album track "Give it up", made by Hyper Heart.
I'll be back on the road later this autumn, will post some dates here the coming month.
And oh, I have some VERRRY exciting news coming up for this autumn – do check back for an update in a week or two.
Let us all have a lovely summer!
x
/JA
(PS. I'm on Twitter too! If you want to follow, here's where)